THESE INSTRUCTIONS ARE FOR THE OLD LICENSING SYSTEM. FOR UPDATED INSTRUCTIONS, FOLLOW THIS LINK.
1.Run the EnergyGauge software.
2. Click on Help > About.
3. Note down the Order Number and Install Code.
4. Close the program.
5. Click on Start > All Programs > Energy Gauge > Uninstall > Unregister EnergyGauge.
6. A confirm dialog window will pop up. Click OK.





7 . Next the Unregister Program window will show up. Write down the Uninstall Code.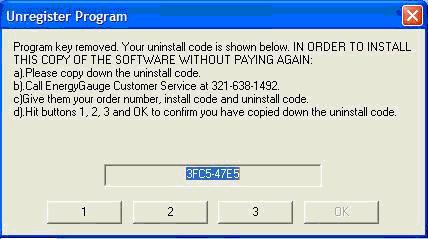 8. Next click on 1, 2, 3 and OK.
9. Call EnergyGauge Technical Support Office at 321-323-7255 and give your Order Number, Install Code and Uninstall Code to the Support Specialist.
10. The Support Specialist will let you know once your license is deactivated.
11. Next you can go ahead and install the EnergyGauge software in another machine and then follow the activation steps using this same Order Number.